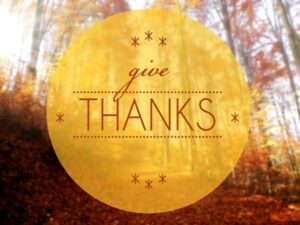 ♥♥♥♥♥♥
We all have something to be thankful for. Take a deep breath. Let it out. The breath of life. Without it, you'll be joining Leland in heaven. Not a bad thing but you have an assignment from God to accomplish or finish – we all do!
As I faced Leland's birthday, November 23rd, and my first Thanksgiving without him, I began to realize that while I am not happy he moved out on me early, I am so very grateful he was in my life. Even if it was only for a short period of time.  
On December 8th, 2021, it will have been 8 months. Eight months of facing life without him. Eight months of learning how very much God loves me. Eight months of miracles, provision, understanding, and yes, letting go of the past and facing a future without Leland. 
This little house He provided for me to rent has been a haven of peace. I haven't ventured far from it yet but that's okay. I have been healing. Has it been easy? NO, it has not. I miss him – yet I know he is celebrating every single day with Jesus, the Holy Spirit, God, and friends and family. 
I heard Kat Kerr make a good point one day. Kat has written two incredible books about heaven (that Leland and I read a week before he died) that were so healing for me. They helped me understand not only what heaven is like (fun), but what Leland is doing there – having fun and loving God, Jesus and the Holy Spirit (and his cows who went on before him). Her books and YouTube weekly podcast on Elijah Streams are linked below.
Her point was this – our loved ones who have gone on before us? The last think they want us to do is grieve for them – to wallow in grief. They want us to be happy for them because of where they are. They want us to move on and "finish our race".
That hit me so strongly – there is no way Leland would want to come back here. He certainly has let go of all earthly dealings. How can I not celebrate and be thankful for him? Yes, I envy him but someday we will all be there celebrating our life with God, Jesus and the Holy Spirit.
And for that I am thankful. I know where I am going when I leave this earth. I pray you do, also. If not, check this out here. Thanks to Kat Kerr, I now know so much more about how incredible heaven is. I can't wait!! But I will – I have things to do. I am thankful for Leland being in my life. I am thankful I was able to experience something so miraculous with him. 
♥♥
Wednesdays with Kat and Steve – all the shows. They are on Episode #52 now. She is on YouTube on Wednesdays at 1:00 pm (Central); sometimes 1:15 pm
Plus a three-book series (Kindle or Paperback) about angels she co-authored Seeing Angels