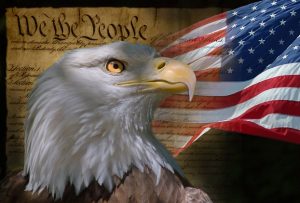 Something my pastor said this morning resonated with me – "Our Flag is a representation of that freedom (those who fought and died for it). Our Flag represents ALL Americans. To dishonor the flag is to dishonor what it cost for that flag to exist (Keith Moore, FLCS, 7-4-21). 
He also read part of a letter written by John Adams to his wife, Abigail, the day before the Declaration of Independence was declared. I'm not going to give a history lesson other than to state John Adams was an advocate and one of the signers of the Declaration.
"I am apt to believe that it (independence) will be celebrated, by succeeding Generations, as the great anniversary Festival. It ought to be commemorated, as the Day of Deliverance by solemn Acts of Devotion to God Almighty. It ought to be solemnized with Pomp and Parade, with Shews, Games, Sports, Guns, Bells, Bonfires and Illuminations from one End of this Continent to the other from this Time forward forever more."
In my post on littleblackdressdiaries.com, I pointed out that Mr. Adams said we should celebrate with shows, games, guns, sports, bells, etc., – party and noises. He believed it would be celebrated from that time (1776) forward. 265 years later, we still celebrate.
For this post, I want to point out another point he made – that before the partying, the day ought to "be commemorated, as the Day of Deliverance by solemn Acts of Devotion to God Almighty…"
The United States of America was founded on God and the desire to be free to worship our God. Many Americans seem to have forgotten this.
So yes, let us remember the many thousand's of Americans who shed their blood to acquire and preserve our freedom. Let us celebrate our freedom with BBQs, fireworks and fellowship. 
But let us also send up a worship and thanksgiving to our God who delivered us to have freedom. Let us continue to stand up for America and, more importantly, for God.
We, the people, were given a Declaration of Freedom called the Declaration of Independence. More importantly, God Almighty gave us a Declaration of Freedom called the Bible. In that Bible is a verse that is our Declaration of Freedom:
"Then Jesus said to… ALL… who had believed in Him, If you continue in My Word, you are truly My disciples.  And you will know the truth, and the truth will set you free."  Joh 8:31-32 (LITV)
Knowing the Word of God tells us what God's truth is and allows us to know what we are free from and free to have. It let's us know when our enemy, the devil, is trying to take away the freedom purchased by the Blood of Jesus. The Bible gives us the weapon to fight to keep our freedom – by speaking God's words .
True freedom.