Some of you will remember awhile back when I posted about a birthday cake miracle that proved God wants to provide even the tiniest things we love. If you haven't, go read about it – The Miracle Cake.
To this day, over 30 years later, it still astonishes me that God cared about my favorite birthday cake when I was miles away from anyone who knew what that cake was. Or how to make it.
The reason I encourage you to read it is because the same lady, Susan Lantrip, who was responsible for the Miracle Cake is responsible for this: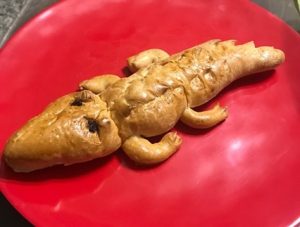 Why yes, that is an alligator. It is a French alligator from a genuine French bakery in Lafayette Louisiana, Pouparts Bakery. I fell in love with their bread in the mid-80's. When they visited me, my dad fell in love with their pastries. My mom just fell in love. 
So Susan Lantrip of THE birthday cake. God used her again. She discovered my love of Pouparts bread and she sent me a care package with a variety of amazing French breads. In the box she put that little gator bread. Leland would have loved it.
I held on to the gator – he was too cute to eat! I put him in the freezer and would take him out often to look at him because he did make me smile.
Then one day God said, "EAT THE GATOR." His point was that holding on to something that should be enjoyed isn't enjoying God's blessing. So I had soup and gator.
God showed me how much HE loves me. He wants us to trust Him as our Source of ALL supply, even what we consider small. He doesn't.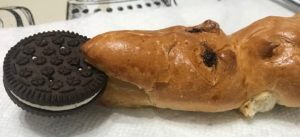 And yes, God has a sense of humor. Who do you think gave me the idea of sending Susan a picture of the gator enjoying his last meal? (I may have already eaten his legs).
You do know, don't you, that I am not responsible for the calories if the gator eats the cookie and I eat the gator??
THERE IS NOTHING TOO BIG (OR TOO SMALL) FOR OUR GOD. HE IS OUR SOURCE OF ALL SUPPLY – even favorite birthday cakes and French bread gators.