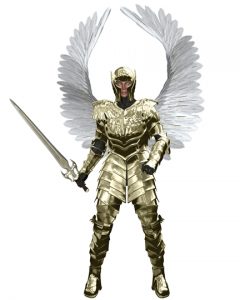 It's hard to believe that it is the last day of November 2020. We are heading into the month of Christmas. A month that probably looks much different than this time last year.
Obviously, things seem crazy and dangerous out there in the world. I much prefer living under the Shadow of the Almighty in my place of safety (Psalms 91:1-2, NLT).
I am going to wind out November with a handful of safety and protection scriptures. These are to be reminders that no matter what, God has your back. Your job is to read these scriptures and daily, speak them out loud. Your speaking is a key to not only keep God's Word before your eyes so you'll remember, but to activate these scriptures. Claim them for yourself.
♥♥♥
1 John 5:28b (TPT) – … because the Son of God protects the child of God, and the Evil One cannot touch him.  
Psalms 12:7  (7-8 TPT) Lord, you will keep us forever safe, out of the reach of the wicked. Even though they strut and prowl, tolerating and celebrating what is worthless and vile, you will still lift up those who are yours!
Isaiah 54:17 No weapon that is formed against thee shall prosper; 
Psalm 4:8 (NLT)  I will lie down in peace, and sleep, for you alone, O Lord, will keep me safe
Psalms 91 Verse 10 translated in the King James Version as "There shall no evil befall thee" (which is good) is translated in the Swedish version as, "There shall no accident overtake thee."  I researched it and found that this meaning is included in the original text. 
Psalms 121:1-8 (TPT) The whole chapter is worth reading but the last 3 verses are great!
  I look up to the mountains and hills, longing for God's help. But then I realize that our true help and protection come only from the Lord, our Creator who made the heavens and the earth.
  He will guard and guide me, never letting me stumble or fall. God is my keeper; he will never forget nor ignore me.
  He will never slumber nor sleep; he is the Guardian-God for his people, Israel.
  Jehovah himself will watch over you; he's always at your side to shelter you safely in his presence.
  He's protecting you from all danger both day and night.
  He will keep you from every form of evil or calamity as he continually watches over you.
  You will be guarded by God himself. You will be safe when you leave your home and safely you will return. He will protect you now, and he'll protect you forevermore!
♥♥♥