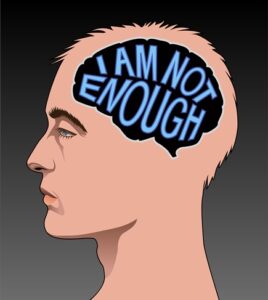 I cringe when I hear what some mothers (and fathers) speak over their children.They say things like, "You're just as bad as your father is. You'll be in jail before you're 18."  "Well, he's part Irish, that's why he has that terrible temper."  "He's ADHD so he can't sit still or process words like other people."  "He's such a picky eater. He won't eat vegetables unless I hide them in his food."
REALLY? What Chapter and Verse of the Bible are they quoting? Those consistent words will get inside a child and he will grow up with them resonating in their minds. Then, as the illustration above, a man will subconsciously think he is not enough.
Most people haven't learned the importance of the words of their mouth. They haven't learned that it is vital to say what God says about a thing or a person. The Bible is full of the good things God says over us.
Several years ago, a minister that I like put together some scriptures to speak over her children. Her children are grown now and their lives are wonderful, serving God. Since it is important for us to say what God says, I am giving you these scriptures, too!
FOR YOUR CHILDREN NO MATTER WHAT AGE THEY ARE (seed means children):
As for me, this is my covenant with them, says the Lord:  My spirit that is upon you, and my words which I have put in your mouth, shall not depart out of your mouth, nor out of the mouth of your seed, nor out of the mouth of your seed's seed, says the Lord, from henceforth and for ever.  (Isaiah 59:21)
Great is the peace of my children! (Isaiah 54:13)
The seed of the righteous shall be delivered! My child is delivered! (Proverbs 11:21)
My seed is mighty upon earth; the generation of the upright shall be blessed! (Psalms 112:1-2)
God fights with him that fights with me, and He saves my children. (Isaiah 49:25)
The Lord is good to me: and His tender mercies are over all His works (my family, my relationships, my work, my finances) (Psalms 145:9)
God pours out His spirit upon my seed, and His blessing upon my offspring! (Isaiah 44:3)
AND, a few scriptures for yourself and your life!
The Bible says our tongue is pen of a ready writer (Psalm 45:1b) and to write a vision and make it plain (Hab. 2:2).
Life and death are in the power of OUR tongue (Prov. 18:21).
We are to decree or declare something and it will be established for us; so light will shine on our ways (Job 22:28).
Psalm 115:14  The LORD shall increase (add blessings to) you more and more, you and your children.
I live in the Secret Place of the Most High; I live in safety. (Psalm 91:1)
I have authority over all the power of the enemy (Luke 10:19)
Nothing shall by ANY MEANS hurt me (Luke 10:19)
No weapon formed against me will prosper (Isaiah 54:17)
The word is near me, even in my mouth and in my heart', that is, the word of faith that I speak in Jesus' name (Roman 10:8)
**********
Scriptures Used
Mark 11:23-24
Galatians 6:7
Photo Credit: Deeb (DepositPhotos.com)