And answering, Jesus said to them, Truly I say to you, If you have faith and do not doubt, not only will you do the miracle of the fig tree, but even if you should say to this mountain, Be taken up and thrown into the sea, it will be so. And all things, whatever you may ask in prayer, believing, you shall receive.  Matthew 21:21-22 (LITV) 
**********
This story is from when Leland and I were living at our first home (1994-2010). This is one that taught me how seriously the scriptural law about speaking is. It concerns a barn across the street from our then house. When I would look out my front window, I had a view of mountains and beautiful trees everywhere except right across the street.
The hay barn across the street had seen better days. It had a small, leaning grain bin attached that was falling down and rusted. The barn was sagging, had mostly fallen down like the above picture. That barn blocked my view, it was ugly and I wanted it gone.
I had just gotten hyped up on hearing a message about Mark 11:23. One day I thought, "Since I know the farmer doesn't and can't use that barn (which is an important point), I am going to apply this principle". I stood on the front porch, pointed across the street, spoke to the barn and told it to be removed – go away – be gone!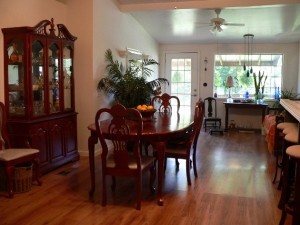 My dining area had a picture window and a glass door, so I could see across the street often. Any time I looked out the window I'd say things like, "Barn, your days are numbered." I thought maybe the farmer would tear it the rest of the way down but however it happened, I had this knowing inside that it had to go. I didn't know when, I just knew that it would.
I know this sounds ridiculous to some people, but I valued my beautiful view and that ugly barn was right smack dab across the street, blocking my view. If the farmer used the barn, I wouldn't (and couldn't) have said anything; but it was not in use or usable. It just hadn't been taken down once it began to deteriorate years before.
Less than a year later, we had a tornado come through town. While we had to deal with some damage, the barn across the street was blown totally down. The only thing left standing was the small grain silo (and it was later taken away).
Suddenly, I had my view! While some would say, "Well, that barn would obviously have fallen down anyway," I beg to differ with them. That barn had been there for a very, very long time. Nothing had caused it to fall down before, not even strong straight-line winds that have been known to knock over huge trees in this area.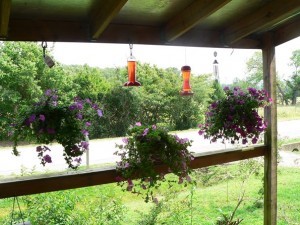 The irony was that a few years later the brush and small trees grew up to totally block the view across the street. But prior to that at least I enjoyed a beautiful view!
I did learn a lot through this experience. First was that the barn did not disappear overnight. It required consistent faith and patience, believing that the barn was going to go. I continued to speak to that barn even though I could not see anything happening. I knew this wasn't a matter of life and death but whenever I thought of it, I would "speak to the mountain" and command it to go.
That barn was a great thing to practice on, especially since later on, vital and important issues in our lives required that same faith – speaking and receiving. But – that's another Musing for another day.
Whatever your mountain is – lack, debt, family, business or relationship issues – whatever – speak to your mountain and command it to go! Command it to line up with what God has to say about it! God has an answer to every single one!
You have His Word on it!