Then this Daniel was preferred above the presidents and princes,
because an excellent spirit was in him;
and the king thought to set him over the whole realm. Daniel 6:3
♥♥♥♥♥♥♥♥
I read a book years ago entitled, "Six Steps to Excellence in Ministry". It talked about how important it is that Christians walk in excellence before the World. It taught that there needs to be something different about us who represent God.
It emphasized that it was important for Christians from all walks of life. It means those who serve God through ministry, not only in pulpits and on mission fields, but also in homes, offices, schools, and the marketplace. All of us.
Never has this principle been brought to my attention more strongly than on a recent road trip Leland and I took recently. We ended up eating in an Italian restaurant chain. Not an enjoyable experience because excellence was missing.
We went in at mid-afternoon on a Sunday. It was around 4:30 so it wasn't very crowded but there were people there. The place had a wonderful ambiance, was neat, clean, and the waitress was very good. She brought garlic Parmesan hot rolls. Yum.
We placed our orders and soon our salads arrived. The lettuce was crisp, mozzarella curls were fresh and the house tomato-basil balsamic dressing was delicious. We thought this boded well for our meal.
We were wrong.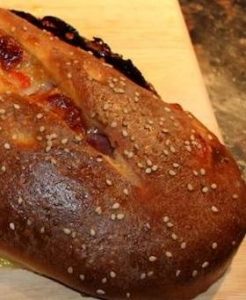 Leland's Stromboli arrived looking dramatically big but it was also burned. He said it was very dry. It wasn't enjoyable at all.
I ordered the Italian Trio which was supposed to be a sampler of Chicken Parmigiana, Lasagna and Fettuccine Alfredo. The meal arrived and the first thing I noticed was that there didn't seem to be any lasagna.
After much digging around, I realized that while the fettuccine and Parmigiana were a nice serving size, there was a tablespoon of lasagna in the corner by the Parmigiana, which, since they were both covered in sauce and mozzarella, semi-hid the fact there really was no lasagna sample.
After tasting a bit of the tablespoon's worth, the lasagna itself was so overcooked you couldn't tell it existed, i.e., mush. The cheese and sauce were all that existed of that lasagna.
Cutting into my Chicken Parmigiana, I realized right away it was tough. Upon inspection, I found it was burned on the edges on both ends, and the center was dark brown overcooked chicken. Dry and shoe-leather in consistency. Very covered in sauce and cheese so as to hide the fact that that chicken had seen better days and was more like the type of coated chicken you deep fry and put on a bun – i.e., thin, thin, thin.
The fettuccine – was okay. Flavorful but a bit sticky.
So what you have here is a cook who burned the Stromboli and reused something by reheating to the point of overcooking, and tried to hide it under cheese and sauce. He was either out of lasagna or just didn't care. He became someone who did not operate in excellence.
I remember when I worked in a restaurant in the mid-80's. It closed at 10 pm. The boss said that if we shut down the grill or deep-fry grease before 10 pm, we would be fired.
If we were not ready to serve people even if it was 5 minutes until closing, we would be fired. If a party of 10 came in the door at 9:45 pm, we were to fix what they ordered – or – all together now: we would be fired (and yes, that happened to a lot of people who tried to clean up early so they could zip out the door AT 10:00 pm).
She was a horrible boss – firing people left and right for perceived wrong-doing (i.e., her boyfriend flirted with the staff. The staff was grossed out but guess who got fired?) Then she would come over the next day and beg us to come back to work. The running joke was, "How many times have you been fired?" My roommate won.
BUT guess which place operated in a form of excellence? Yes, the horrible boss who cared very much about service and the customer. Who cared that the food was well-prepared and delicious. Her restaurant was packed from early morning until closing (and sometimes afterward). And we really did like her and other than the quirks, most of us enjoyed that job.
No matter how slack other people and businesses get, God EXPECTS us to walk in that spirit of excellence.
Like Daniel in our reference scripture, we should walk in excellence to the point we are noticed for it. Promotion comes with excellence. God can work with a person who makes a point to walk in excellence.
You have His Word on It!
♥
Copyright secured by Digiprove © 2018 Nan C. Loyd