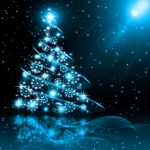 (Some of this musing is taken from one written a few years ago [2009]. I found it just as important for this year 2020, especially with the political things going on. God has His Hand on His people.)
'Tis the season… to be thankful!  I mean, REALLY, REALLY thankful.
A few years ago, I was having a "tough" time of it – stressing over baking, cooking, shopping, wrapping, decorating, perfect parties, and the "do we have enough gifts" attack. I was doing too much and overloading myself.
I sweated over making snacks for our snack night. I worried about the things I forgot to make and stressed because I didn't feel appreciated that I spent so much time on the food and people ate like locusts then went home without saying "thank you" (or at least offering to help with cleanup). I was exhausted and did not even have time to enjoy the night.
I was developing a bad attitude for Christmas.  Kind of a Spirit of Martha. (Luke 10; John 11)
Then the next morning I got an email from a friend. While I was slaving away over cooking and baking and griping, she was with her oldest son in the hospital as he was fighting for his life. He had been stabbed twice and wasn't expected to live.
That most definitely jerked me up out of my self-absorption and stressing over non-important things. I was worried I was not making enough goodies for snack night while she was worried about her son living through surgery that night.
This is not intended to be depressing. It is intended to change your focus so you won't stress this season over non-vital things. There is so much to be thankful for and it is only when our focus is on those things that we can enjoy the real meaning of Christmas.
When you begin to feel stressed over this season and worry about things that are just plain not important, jerk yourself up and be thankful for the wonderful things you do have. 
It's not how many gifts are under the tree. It isn't how much a gift cost. It isn't about the food or the parties. It is about celebrating life – the life of our Savior, Jesus. The life He gave so we could be free, delivered, healed, whole, safe, made whole, and protected (all meanings of the word "salvation"). 
This year let us be thankful for all the good in our lives.
MERRY CHRISTMAS!