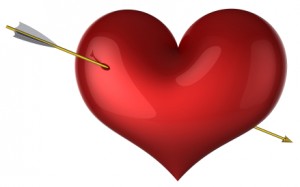 I used to believe God was waiting for me to make a mistake so He could (figuratively) thump me on the head. I used to feel He had to be disappointed in me.
The most amazing revelation I ever had of God is that HE LOVES ME.  He really does love me UNCONDITIONALLY. He isn't expecting me to disappoint Him.  God isn't thinking, "That Nan, she ALWAYS messes up. She NEVER gets that right  She keeps blowing it and making mistakes."
Most people were raised, and raise their own children, on a "performance-based approval" method. Do right and good things come to you. Do wrong and good things are withheld from you.
We carry that performance-based belief system over into our relationship with God. We believe if we don't act "just right" and do things perfectly, God won't (and couldn't possibly) love us. We might think He will be disappointed in us but God is a God of Mercy.
God NEVER takes His love from us. N-e-v-e-r. It may seem like He does because we wander away and get into trouble, then avoid Him out of embarrassment and guilt. Unconditional love is sometimes a hard concept to grasp because of that performance-based method of love we know more about.
The most important thing we can do is to get an understanding of how MUCH God loves us – how vast and all encompassing His love for us is. It is so powerful and so pure, and so UNCONDITIONAL.
Do you realize that no matter what you've done or think you've done wrong that God's love is there to catch you, to surround you, to protect you, to forgive you, to restore you, and to encompass you?  He will never break His Word to you.  He never withholds His love from you. HE LOVES YOU UNCONDITIONALLY.
Does God always love you? The answer is a resounding YES. Study out that word 'unconditional" and start to get an understanding how much God loves you!
You have His Word on it!