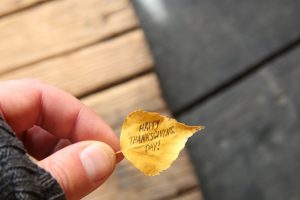 This is the week we, here in America, celebrate Thanksgiving. There is so much to be thankful for, but beyond things there is what God has done for us:
This scripture in Psalms is there to remind us of just SOME of the things God has done for us. There are many, many more things but this will get you started.
Psalms 103:2-12  Bless the LORD, O my soul, and do not forget all his benefits—
–  who forgives all your iniquity, who heals all your diseases,
–  who redeems your life from the Pit, who crowns you with steadfast love and mercy,
–  who satisfies you with good as long as you live so that your youth is renewed like the eagle's.
–  The LORD works vindication and justice for all who are oppressed.
–  He made known his ways to Moses, his acts to the people of Israel*.
–  The LORD is merciful and gracious, slow to anger and abounding in steadfast love.
–  He will not always accuse, nor will he keep his anger forever.
–  He does not deal with us according to our sins, nor repay us according to our iniquities.
–  For as the heavens are high above the earth, so great is his steadfast love toward those who fear him;
–  as far as the east is from the west, so far he removes our transgressions from us. 
*The implication of this scripture is that the people only saw the acts of God, the results. Moses was close to God and knew how He worked and how He operated. It was a more personal relationship.
♥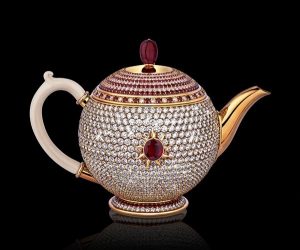 I did a google search on expensive tea sets, just out of curiosity. This one is apparently the winner. I honestly don't see making tea in a $3 million dollar teapot, but that's just me. Look at it, yes. Own it, yes. Use it? Ehh, not so much.
I know this – no matter the price the world puts on a teapot encrusted with diamonds and rubies, God put a higher price on us. We are paid for by His Son's blood – priceless. We are worth more than all the world's most expensive toys.
—–
Officially certified by the Guinness Book of Records, "The Egoist" is the most valuable teapot in the world at $3 million dollars. Designed by British billionaire Nirmal Sethia and crafted by Milanese jeweller Scavia, the teapot is embellished with 1,658 D and E colour grade diamonds and 386 rubies, with a central 6.67 carat Thai ruby. (Information courtesy of  website Chanda Chaudhary)
Copyright secured by Digiprove © 2018 Nan C. Loyd