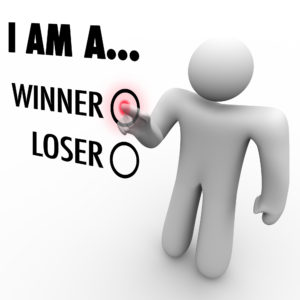 All of us are subject to the same devil. He is just like God in that he (the devil) is no respecter of persons. He doesn't show favoritism. He is an equal opportunity devil – he comes to steal from, kill and destroy everyone. (John 10:10a)
That enemy comes to enact John 10:10a any way he can. Sometimes it's as subtle as keeping you focused on your past, thereby stealing your "now" and your "future". Then he wins. He stops you from being effective for God.
The biggest lesson I've learned recently is that, if you trust God and stick with Him, you won't stay down. You get back up.
If I allow the enemy to overwhelm me with memories of my past with Leland, I get knocked down.  I give in to that spirit of grief. I am no good to anyone (thus not getting the devotionals posted on time)!
Here are lessons-learned during these times we are living in. Realize that we do have an enemy. Realize what his job is – stealing, killing, destroying. Then, most importantly, realize that if he knocks you down? You don't have to stay down! 
That's the thing about being MORE than conquerors (Romans 8:37) – it's not over until we win. God says we are more than conquerors because He knows this: with Him we always win. We always get back up, stay in the fight and WIN. 
♥
Photo Credit: @ iqoncept DepositPhotos.com