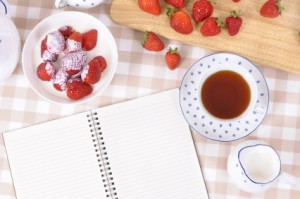 Habakkuk 2:2 (BBE)  …Put the vision (dream, revelation) in writing and make it clear… 
Dr. Gail Matthews, a psychology professor at Dominican University of California, shows the true power of writing down your goals. She found you become 42% more likely to achieve your goals and dreams (vision) simply by writing them down on a daily basis.
Somewhere else there was another study (I think in 1953 or 1979, Harvard or Yale). Prior to graduation, a graduating class was asked:
Have you set written goals and created a plan for their attainment? 
84% of the entire class had set no goals at all
13% of the class had set written goals but had no concrete plans
3% of the class had both written goals and concrete plans
Ten (10) years later, the 13% of the class were making twice as much money as the 84% of the class that had set no goals at all. The eye-opener is that the 3% of the class that had both written goals and a plan were making ten times as much as the rest of the 97% of the class. 
Yet knowing this, knowing God says to write it down, knowing all very successful people write their goals (vision) down, as simple as it sounds, most people still don't and won't write them down. 
It comes right out of God's Word! The word "write" is mentioned 35 times in the Old Testament alone. Most (not all) are God saying, "Write that down."
Gee – you think that if God is telling people to write things down and to look at those things written down (or the pictures) that it might be important?
Why am I harping on this? Why am I throwing worldly statistics at you? There is rumbling in the Christian world that God is getting ready to do great things. He's been poking me and talking to me and leading me to other teachers about vision – dreaming BIG and thinking BIG. He wants us to do GREAT exploits (a bold or daring feat). Daniel 11:32
The beginning of that is to get before Him in your private, quiet time and ASK Him what big things He'd like you to do. Then write it down (with images) or get pictures to put on a vision board (cork board) or both. Example: I have a picture of me in a bathing suit when I was at my perfect weight. I see that every morning and evening, reminding me I have a goal to get to my best weight. I also have a picture of a book cover representing the books I'm writing. Others have pictures of a dream house or dream car. Get imaginative! 
Your goal is so vividly describe your vision, dreams or goals in written form (including images, photos, drawings) that you can literally show it to other people (only other big dreamers) and they will know exactly what you're planning to achieve.
Copyright secured by Digiprove © 2022 Nan C. Loyd