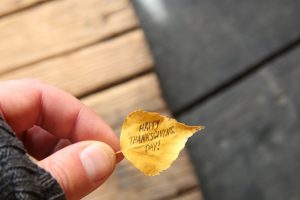 Today in the USA, we celebrate Thanksgiving. I'm not going to get into explanations of Native Americans and Pilgrims – Google it.
I just want to ask a question of you about true thankfulness.
Are you? Really Thankful?
Most people say, "Yes!" because it's expected of them on this day. It would almost seem sacrilegious not to be thankful on Thanksgiving Day. Some traditions have people going around an overloaded groaning-with-food table telling one thing they are thankful for. Not a bad tradition…
But this is just one day. Tomorrow morning comes the real test – are you still thankful?
Merriam-Webster:  Thankful:  conscious of benefit received ("thankful for this food we are to eat");  expressive of thanks ("thank you!";  well pleased : glad (was thankful that it didn't rain).
I think to make this devotional quick – fast – I'll just say this:
Most of us feel thankful when we have enough to pay our bills, have some left over for groceries and maybe a treat like eating out. As long as our "needs" are met, we're thankful. One little change – layoff, big sickness (with a $5000 deductible) everything can change in the blink of an eye and thankfulness goes out the window.
BUT – at the other extreme, so many don't have their needs met, bills paid, and are struggling month to month to get enough groceries, and eating out is a far-away fantasy. Yet they can be thankful because they draw breath and are happy to be alive.
Here's the truth: God Loves YOU. Jesus died for you to have eternal life AND all your needs met, being out of debt, having plenty to put in savings, and to give to "every good work".
As long as you know God loves you, Jesus died for you and loves you, the Holy Spirit is here to guide you, direct you and show you of things to come, that Angels work for us – and that God has an amazing plan for your life – everything contrary to that is temporal (temporary) and subject to change.
If you KNOW everything you're facing that is not peaceful or something to feel thankful for – as long as you KNOW it is temporary – then you can be thankful because faith in God will bring about change.
Be thankful – God's got your back and you are already an overcomer – a winner – triumphant. If you will put your trust and faith in Him, He will bring you up until your life matches His idea of what it is supposed to be like.
That's something to really be thankful for!
You Have His Word On It!!
John 10:10
Matthew 6:32
Philippians 4:19
Deuteronomy 28:1-14
2 Corinthians 9:8
Colossians 1:10
2 Corinthians 4:18
Jeremiah 29:11 (ESV)
(ESV) For I know the plans I have for you, declares the LORD, plans for welfare and not for evil, to give you a future and a hope.
♥
Copyright secured by Digiprove © 2017 Nan C. Loyd