But ye have an unction from the Holy One,
and ye know all things. 1 John 2:20
But the Comforter, which is the Holy Ghost,
whom the Father will send in my name, he shall teach you
all things, and bring all things to your remembrance,
whatsoever I have said unto you. John 14:26
***
So Leland went to Wally World today to pick up a few needed items. I forgot to tell Leland to pick up toilet paper. He came home with my favorite (Charmin) in a 12 pack. He said the Holy Spirit told him to pick it up.
Here's the thing: the past few days I've had the "thought" to pick up some toilet paper. Didn't think there was a rush but I didn't ask Him "when" – so obviously God is taking care of us!
While Leland was chatting with a girl about the empty shelves of green beans, she said that people are beginning to hoard again. She's seen it mentioned on Facebook. We had no idea.
This is canned veggie aisle today. It's a good thing he bought several cans last week!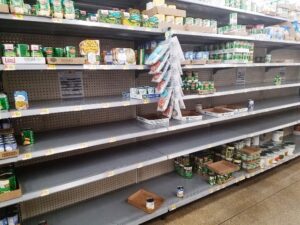 My friend Carolyn hadn't heard about people wiping out shelves again but she said this:
"Haven't heard that, but was led by the Holy Spirit to replace anything I had used and not touch backup storage. …I trust God to direct, protect and supply."
Here's another friend of ours, Laura:
"How funny! I picked up groceries while we were in Abilene – curbside pick up – no TP (toilet paper) available. While driving home God said to stop at the little Walmart on the way home … I almost didn't and there was TP (and Charmin)!"
Each of us had a "prompting" – a thought, a poke, something that we wouldn't normally think. I really thank God that He takes care of us. I am grateful I wasn't too late. Leland said the brand he'd been buying was totally gone. He knew I liked what he picked up. I like that the Holy Spirit covered my… well, you know.
OBEY those promptings. You will find the Holy Spirit will lead you in the way that you should go! You're going to find yourself taken care of no matter what's going on out there in the world – just ask – and receive.
♥