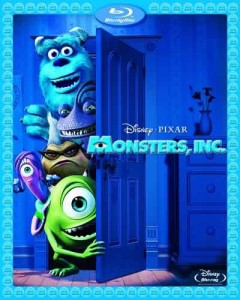 So many times, I see the Word of God explained through everyday situations.  I'll watch people, see or hear about situations or view movies and get an epiphany.  Most of the time that epiphany is not very "deep".  Then again, I've discovered God and knowledge of Him (and His ways) is very simple.
So many people do look for deep things of God. And so many times all it does is confuse me when I read what they say about it! God meets me on my level.  I'm thinking my level is more kindergarten than Master's degree in theology.  But you know what? It makes Him very easy to understand.
Let me give you an example.  A few days ago, I was reading my devotional for the day.  The day's topic was about having "no condemnation".  The main point was that, unlike the people of the Old Testament, we don't have to DO things, punish ourselves or offer up sacrifices to make up for our sins.
The author was talking about the difference between atonement (OT) and what the Blood of Jesus (remittance, NT) provides.  Atonement is a covering.  It covered over and covered up, but didn't destroy the sins of the Israelites in the Old Testament. Plus that animal blood sacrifice was temporary in that it only covered for a year.
On the other hand, the Blood that Jesus shed on the cross (remittance) not only covered, it did away with the sin.  Totally wipes it out.  Permanently, forever.  Makes it as if it never happened.
That devotional point reminded me of a kid's movie.  If you enjoy Pixar animated movies like Leland and I do, you probably saw the Pixar animated comedy, Monster's Inc*. There are a lot of good points in that movie that can correlate with God's Word!!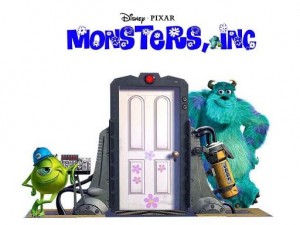 A short take on the movie – monsters work in a Scare Factory in their world. There are literal doors stored in the factory that lead to a child's bedroom closet from all over the world. The monsters pop out of the closet of a child in the human world, scare that child and that child's scream of fear is then captured in canisters. Those screams of fear in the canisters provided electricity to the city.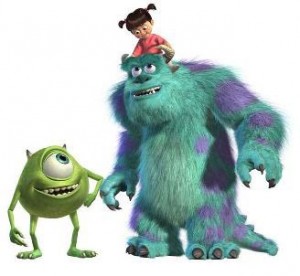 The two heroes discover a little girl who followed one of them back into their world. In their world, contact with a child is dangerous. As they interact with the child, they begin to realize that she's not dangerous and risk everything to save her and get her back to her own world.  
Later on, the workers discover that a child's uninhibited laughter provides much more power than fear ever did (hmm, there is a story in that. Laughter? Medicine**?). The movie is funnier than this description sounds like.
Anyway, in the beginning of the movie, the monsters believe that if anything from the child's world – like a child or even a sock – touched them, they would die.  Therefore there were "agencies" (like a police Swat team) who would come in and destroy any contamination (i.e., a child's sock stuck on a monster's back).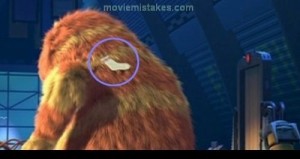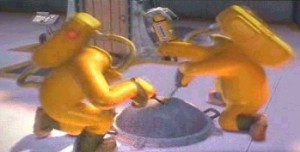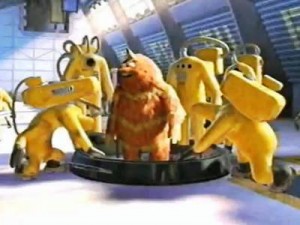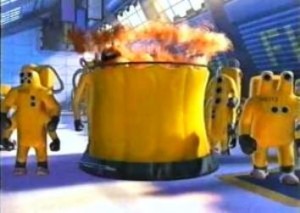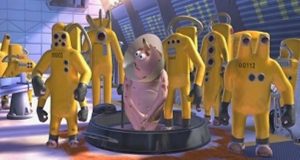 They would remove the sock, isolate the sock, place a dome over the sock, and screw the dome down around it. Then the interior of the dome would incinerate the evidence of the sock and once the dome was removed, there weren't even ashes left.  It was as if the sock never existed. 
They also would put something over the monster and decontaminate him. In the case of this character, it shaved him, removing all his hair. Stripped him naked – sort of like the enemy likes to do to us, making us feel unworthy and vulnerable.
WE have the Blood that Jesus shed on the cross for us. The Blood is like that dome, utterly destroying any evidence of sin, without condemnation (leaving us naked and vulnerable). 
It is that simple.  Once you repent and ask God to forgive you, any proof that you ever missed the mark (sin) is destroyed in His eyes.  It no longer exists and you are given a clean slate (without stripping you!!).
The only ones who can bring it back up are you and the devil.  His job is to get you to feel condemned, feel guilty about something you did, hound you with it, give you sleepless nights, and ruin your peace. Our job is to believe God zapped our sin and we're clean and forgiven.
Today just realize that you are free from condemnation.  You are free to walk around without guilt. Like that dome in the movie, anything from your past can be placed under that "dome" (the Blood) and be utterly, totally destroyed – as if it never existed. Anything.
And you won't even lose your hair!
Walk free today!  God is good, all the time!
Until next time –


 *© Disney Enterprises, Inc./Pixar Animation Studios. All Rights Reserved.
 **Proverbs 15:13 (Darby) A joyful heart maketh a cheerful countenance; but by sorrow of heart the spirit is broken.
Proverbs 15:15 (AMP)  All the days of the desponding and afflicted are made evil [by anxious thoughts and forebodings], but he who has a glad heart has a continual feast (a tranquil heart) [regardless of circumstances].
Proverbs 17:22 (AMP)  A happy heart is good medicine and a cheerful mind works healing, but a broken spirit dries up the bones.
Romans 8:1
John 10:9-11
1 John 1:7