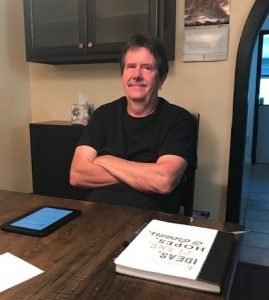 Some people ask, "Leland believed in healing and health; how could he have died?" Some assume it means the Bible doesn't work for everyone, doesn't work all the time or doesn't work at all.
Not so. One man's death does not null and void the Bible. The Bible is ALWAYS true so if something fails, it's not on God's end.
My son Josh told me, "Mom, the next time you write your devotional, you have to tell people the truth." So I am.
Leland had an attack of the enemy last May 2020. The sides of his throat became sore. I wanted him to go to an Ear, Nose, Throat specialist but their office recommended he go to a regular doctor first.
Leland did. It was really stupid. The man had no clue what was going on so decided it might be allergies. He recommended over the counter Claritin – which, of course, did nothing. Leland refused to go back to any doctor.
He chose to believe God for healing. He was in the Word daily. He had his healing scriptures that he confessed daily. He listened to podcasts and streams. 
Recently, I again began to ask him about going to the ENT specialist now. This was one sign we missed because I usually trust his walk with God and don't question.
He refused. He would state he was believing God for healing. I replied, "You're worse and it's almost been a year, you're having trouble eating certain foods, you're having trouble talking, and nothing has manifested. It's getting dangerous. Why not go to the ENT specialist?"
A week before he suddenly died, I "heard" in my Spirit – "If he doesn't go to the doctor, he's going to die."
I told Leland and we both assumed it was the enemy. We rebuked the devil. What we did NOT do was ask God if this was Him or not. And that assumption is what killed Leland.
A week later, he died.
What killed him? Assumption, disobedience, lack of discernment (whose voice), pride, stubbornness, ignorance. Pick one.
Had I discerned it was God talking and told Leland so, he would have either checked in with God himself or he would have gone. I did not discern. He did not discern. And it cost him his life
Disobeying an "order" – go to the doctor – doesn't mean Leland wasn't a man of faith. What he was was outside the realm of faith and into assumption. He didn't mind doctors, believed God would use them. But this time…
Do I believe if he'd gone to the doctor, he'd be here today? Yes, I do. God merely said, "Go to the doctor or you're going to die" and didn't say, "You will not recover".
Since this happened, I've heard from others who had a similar story. They missed a prompting from God. They missed warning signs. And because of that, the spouse died.
God is merciful. He will take care of me and walk me through this. I asked God for forgiveness. I had to forgive Leland and I had to forgive myself. I had to let go of the anger that Leland wouldn't go to the doctor and thus robbed us of our future.
Always check in with God when you get a warning. Always discern that Voice. Obey what He tells you to do. Don't just assume you know. 
It may well save your life one day.
♥♥