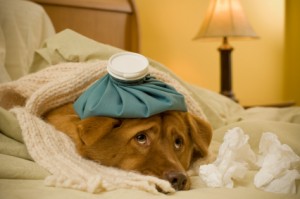 So you got the creeping crud?  Got some disease? Feel sicker than a dog? Got a bad diagnoses?
You feel like your head needs to be disconnected from your body just so you can feel better? You want to curl up and sleep for a week? You want to moan and groan about how awful you feel? Saying, "Why won't God help me?" You believe the doctors when they say, "I'm sorry, we can't do anything for you!"?
STOP! Don't go any further. Don't whine. Don't moan. Don't feel sorry for yourself. For sure, don't lie around wondering how this happened to you when you are such a faith person! That will only lead to self-condemnation and self-pity – and NOT to feeling better and total healing.
Several years ago I heard a great faith preacher say something that changed my life:  He said, "It's too late to get prepared when you're in the middle of the battle."
What does that mean?  A soldier going into battle doesn't play around until it is time to attack. He will prepare, practice, work on his skills, practice, prepare, work on his skills – until they are second nature and he is ready for the battle. He will react automatically because of preparation.
As a soldier in the army of the Lord, you also need to prepare, practice, and work on your skills (faith).  How?  By putting the Word of God (Bible scriptures about healing) into you daily so you are more full of the Word than you are the world.  When you're under attack is not the time to decide to get full of the Word of God.  You need to be full of it all the time.
The most important thing is to start putting in mega-doses of the Word of God (what God has to say about things, and hint: He's not for sickness and He's not for leaving earth early).  Find good faith teaching (link below). Start now to soak it in!  Immediately. Listen to Word about healing and health ALL the time if you're in a battle for your life – and if you aren't.
When I was recently laid out for 3 days with some viral thing, I slept 36 hours straight in a row.  When I was able to get up and move around I got smart and grabbed a teaching CD on healing.  I set the player to repeat and listened to the CD over and over and over and over, conscious and subconscious getting full of the Word of God on healing.  The very next day was the turning point and I began to feel amazingly better.
God's Word is health to our bodies.  Put on teaching CD's on healing. Find several on YouTube and set them in a list to play over and over. Several good Faith teachers listed below. I will recommend a few but it is always good to find the ones that minister to you personally. Put in their name and "healing".
Never ever say, "I'm going to die!" Say what the Bible says – "I'm going to live and not die"! Don't whine, moan, groan, or otherwise not speak the Word of God.  Get to a doctor if you need to and #1 most important thing of all – GET YOUR EARS FULL OF THE WORD OF GOD.
Once you feel better, make sure you fill yourself up with Word every single day!  It's easier to take your sword into the battle when it's already sharpened rather than have to stop and sharpen it while the battle rages around you!  The Bible says the Word is a sword – and its power comes when you speak it out! It is our best and only defense in a world full of sickness and disease!
♥
Free excellent teaching downloads from my pastor, Keith Moore – search ones about healing: moorelife.org
eSword.net – An excellent FREE Bible study download – for iPhone – but also for any laptops and desktop computers.  Click HERE to buy extra new Bible translation modules
Pro 18:21  The tongue can bring death or life; those who love to talk will reap the consequences. Watch what you say – only speak life.
(NLT)  I will not die; instead, I will live to tell what the LORD has done.
Eph_6:17b  …the sword of the Spirit, which is the word of God:
Copyright secured by Digiprove © 2020 Nan C. Loyd