Matthew 5:4  Blessed are they that mourn: for they shall be comforted.
♥♥
This scripture is so true. I am blessed – God has proven to me over and over this past year that He is with Josh and me. It's like He has gone out of His way to keep us sane, whole and functioning.
I know where Leland and my dad, Wayne, are. We haven't lost them. We will see them again. We not only have God's Word about it but so many numbers of people have actually been there (in spirit) and come back to tell about it!
My mom loaned me a book in the '80's (Embraced By the Light) by Betty J. Eadie, a 31 year old mother who died on the operating table. I'm not sure of all the details because it's been quite awhile since I read it.
I know she stood in heaven talking to Jesus. He told her it wasn't her time yet and she had to go back. Suddenly she heard a voice calling her name and demanding she come back. She didn't want to even though she had a relatively newborn baby. That's how strong LOVE is in heaven.
Several years ago I read, "Visions Beyond the Veil" by H.A. Baker. In the 1940's he and his wife went to China and started an orphanage because of the many orphaned children (due to the war) running the street. They only took in children who were willing to quit stealing and running wild.
The Spirit of God fell on that place and those children began to prophecy and tell of things they had seen in heaven*. My favorite part was them excitedly telling the others about seeing friends who had died before them. A lot of the fun and joy they saw in heaven has been told by other people even more recently. It is a fascinating story – especially what the kids did and saw.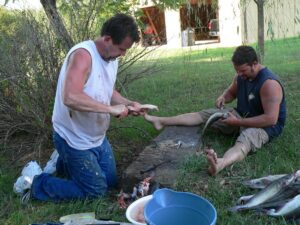 Josh and Leland had been best friends. My dad and Leland had also been best friends. I'm sure they are doing something grand together in heaven today.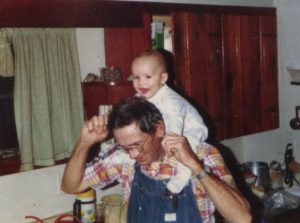 Neither father would want us mourning and grieving. I have learned that they celebrate when we go on with our lives. Doing things for God. Finishing our assignments here. Being effective for Jesus.  They celebrate our successes and our own celebrations. **
We will celebrate who these men were on earth – and who they are in heaven. Josh and I both celebrate that we had 27 amazing years with Leland and that my Dad was in Josh's life for 22 years. We are better because of them.  HAPPY FATHER'S DAY TO TWO GREAT MEN.
♥♥
*And your sons shall prophesy…and your young men shall see visions. Acts 2:17
Visions Beyond the Veil (Kindle version on sale for .99 cents
Revealing Heaven I and Revealing Heaven II  by Kat Kerr**