"Set a watch, O Lord, before my mouth; keep the door of my lips" – Psalm 141:3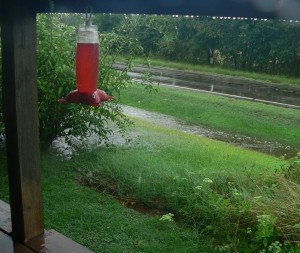 A few years ago, it was very, very dry here where I live.  We had near-drought conditions and gardens could dry out and be useless in no time at all.  We had to water our garden quite often – a chore I hate to do. One year, the artesian well we used came close to drying out. It was very dry.
Every year people bemoaned the near-drought conditions we lived under.  People started talking "drought" as soon as thoughts turned to gardening and planting.  Everywhere you went you'd hear, "Yep, I hear it's gonna be dry this year" and "We will have drought again this year." Sure enough it would be hot with no rain in sight. The grass would take on a light brown hue – except for where I watered. Burn Bans were in effect most of the summer. No burning of trash on properties.
God finally got it across to Leland that he needed to change the words of his mouth if he wanted to change his environment. We were both chastised as God pointed out to us the many scriptures in the Bible promising that He would provide rain on our land. We realized that our mouths needed to line up with God's Word.
So Leland sat down and looked up every scripture in the Bible that mentioned and promised rain. Then he began to read them aloud every morning. As he did, his thoughts changed and he began to 'see" (revelation) that if God promised rain, we should have rain not drought on our land. It's sort of like a minister said one time, "If you want the dog to come to you, don't call the cat."
We never confessed or used the word drought again. When people at Leland's office began their yearly doom and gloom report for drought conditions, he would not agree. Sometimes he'd say, "Well, we'll have rain on our land." They'd think he was crazy and ignored him. He would simply go to his cubicle and confess the scriptures and say, "I rebuke those words. I WILL have rain on my land."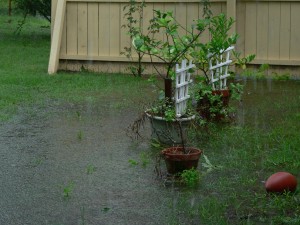 To make a long story short, each year we got progressively more and more rain on our land. It got to where he would go to the office and talk about the rain we had and discover no one else in the area around our town had rain. This happened several times. Our town always had rain even if others around us didn't. It was as if it bypassed certain areas.
My mom's house was on a road behind our house. I could walk up the field to get to her house. Any time I made the comment (mostly as a faith statement), "It's going to rain today" mom had a bad habit of always scoffing and saying, "No it's not. It's not going to rain. Even the weather report says it's not going to rain."
One day I said, "Well, it may not rain on your property but it will rain on ours."  Later when she walked me out to the yard so I could walk back down the field to my house, we were both astonished to see that it was raining on my property – less than 900 feet away – and halfway up the field, it was not raining. It stopped so that it was not raining on her property.
She never said it wasn't going to rain again (and neither did I!). Ever. That taught us both a lesson that day about the words of our mouth.
It has been several years since Leland stopped confessing drought. We moved to another property in the area and have always had rain on this new property.  It tried to be dry the second year we lived here, but no matter what, we did not quit confessing rain.  Now we have PLENTY of rain every year, even when others don't.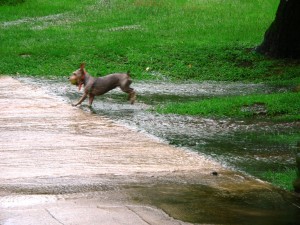 Sometimes we have so much rain I'm tempted to say, "Man, this is too much rain!" But I don't say it. I will never say it! No way. No how. I am determined to consistently fill my mouth with the Words of God! I've seen the "before" and I've lived in the "after" – God's Words never returns to Him void. It always produces what He said it would.
We just have to believe that and line our mouths up with His.
"Attend to My words; incline thine ear unto My sayings!" – Proverbs 4:20
Isaiah 55:11
Proverbs 4:20
Proverbs 12:14
Proverbs 13:2