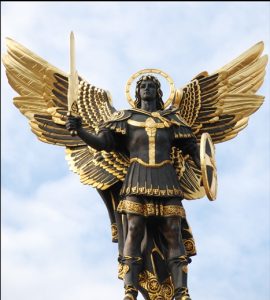 There are so many things written about angels. Ninety-nine percent of them are not true, not based on the Bible, and some are totally made up.
I think one of the reasons people misunderstand about angels (other than they have no idea what the Bible says) is the King James terminology about them.
Terminology – ministering spirits. We understand guardian angels and think of them protecting children. Some think they leave us when we turn into adults. Not so. They are with you always – but they don't always get to work for you.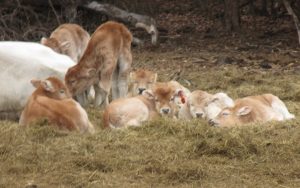 Ministering spirits – from Hebrews:
Heb. 1:14  Are they not all ministering spirits, sent forth to minister for them who shall be heirs of salvation?
Another translation:  (NLT)  Therefore, angels are only servants—spirits sent to care for people who will inherit salvation.
Minister – to work for you. Like a waiter waits on you, to bring you what you need. When you get saved, angels are immediately dispatched to come work for you.
Salvation in this instance means: preservation, healing, soundness, and deliverance from temporal evils. This verse is referring not to our being born again (saved), but to the deliverance that comes by the ministry of angels.
The angels are sent to those who belong to God. The angels will get involved in your finances, your business affairs and your family affairs. They will come help you with anything you need help with, in every area of your life.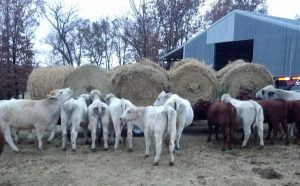 I said all that to share this story about Leland's cattle and angelic cowboys:
Working with cattle, there are times he needs to separate out the cattle. This can be because a calf might need weaning from the mama or because a specific cow might need medicine.
When he feeds sweet feed in the corral, all the cows come up to the corral, then they all leave again. No one stays behind.
One day during his prayer time, he made the statement that four babies needed weaning. The next morning when Leland went out to feed, three of the calves were standing in the coral by themselves.  He closed the gate so they couldn't leave, then it was a simple matter of changing pastures and the weaning was complete.
Again during prayer time, Leland told God he needed the fourth calf to be weaned. When he fed that evening, the fourth one came in with the cows. The calves don't normally come in with the cows because they have their own feeder. As the cows finished eating, he sorted them out through the gate until the only one left in the corral was the fourth calf.
Leland was trying to maneuver him into the second section of the corral when he "heard/had the thought" "Close the gate!" He did not obey the prompting and the calf saw the open gate. He immediately headed toward it. Leland headed toward the gate, too. The calf saw Leland and ran faster, Leland speeded up. The calf zipped through the gate, leaving Leland in his dust.
Two days later, in the morning, the calf was standing alone in the corral looking at Leland, confused as to why he was there – and Leland closed the gate on him! Weaning done.
This happened enough times that we began to realize that angels are also cowboys! These things just don't happen. Leland has worked with cattle enough to KNOW there is something supernatural going on.
One of the mama cows needed help. She'd hurt her foot and the vet needed to come see her. Once he got her there and medicated, she stayed in the corral for a week, then was put into the pasture with the steers. She never came into the corral that week.
There had to be a week between medicine shots. Leland told me he thought she'd need one more round after the week was up. That next Monday, he went out thinking about getting her up to the corral, and there the cow was, standing in the corral, looking at him. Remember, she hadn't come into the corral that entire previous week.
We fully believe that angels are putting the cattle where they need to be. I can just see them patting the little calves on the butt to encourage them forward, even though they have no idea why they ended up in the corral.
Once we read Charles and Annette Capps book entitled, "Angels" we began to realize what was going on. Cowboy angels were sent to help Leland with the cattle. There is no other explanation.
This was an eye-opening experience in understanding that angels do more than protect you and keep you safe. There are legions of angels out there just waiting to be put to work.
Next time I will explain HOW you put them to work (or you can download the Angels book and find out sooner)! (Hint: the answer is one inch under your nose.)
.