I am going to make some changes to Anointed Word Ministries Musings (devotional).
At this time I post once a week.  I believe God is prompting me to make a small change.
My once-a-week postings can get a – oh, shall we say, a little long? Especially to those of you who are in a hurry but would like a quick boost of Word to keep you going.
Starting this week, I am going to add a post on Tuesdays that is short and sweet; just some good news in succinct form.  The regular Musing will post on Fridays. If there is any particular topic you'd like more information on such as grace, elegance, the Solomon Principle, or tea, jot it down in the comment section.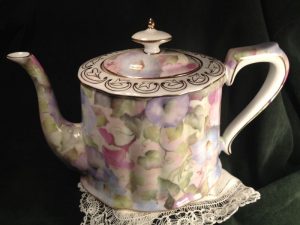 The Tuesday posts are named Grace and Tea – and Elegance and Tea.  There will be a bit about tea that you may or may not know, everything from health benefits to settings and delicious types.
Elegance is such a huge word and something very important to God. We'll learn together!
There is also Grace in all its meanings – dictionaries show grace to mean:
Noun:
Elegance or beauty of form, manner, motion, or action
A pleasing or attractive quality or endowment
Favor or goodwill.
A manifestation of favor, 

especially 

by a superior
Mercy; 

clemency; 

pardon
Theology:
The 

freely 

given, 

unmerited 

favor 

and 

love 

of God
The 

influence 

or spirit of God 

operating 

in humans to regenerate or strengthen them
A virtue or excellence of divine 

origin:

the 

Christian 

Also 

called 

state 

of 

The 

condition 

of being in God's 

favor 

or one of the 

elect.

Moral 

strength:

the 

grace 

to perform a duty
Who knows which direction it will go? It could be any one of the meanings above  or I may simply encourage and show you ways to live your life elegantly. It could be about how God gives us the ability to do the work He called us to do – or it could be something about grace and living up to the Solomon standard of great wealth.
I hope you will join me on Tuesdays as I begin this new format. Well, actually they will show up in your email box so I guess I mean, I hope you enjoy the short and sweet posts!
Today's last Sunday post is simply this – one meaning of the word "grace" is to be highly favored.  Luke talks about the angel who talked to Mary (mother of Jesus), calling her highly favored, blessed.
BUT, she is not the only one highly favored – so are we.  Ephesians states that we are accepted, the very same word that means "highly favored"
Those of us who belong to God are highly favored – endued with special honor, made accepted, and so much more!  We ARE special to God.
♥
Luk 1:28  And the angel came in unto her, and said, Hail, thou that art highly favoured, the Lord is with thee: blessed art thou among women.
Eph 1:6  To the praise of the glory of his grace, wherein he hath made us accepted in the beloved.