I've heard it said that now, more than ever, it is a very dangerous time to live in without God, without His Protection, without Faith. Since everything in our spiritual walk hinges on Faith, it is vital we know how to walk in Faith
We are living in times most of us never thought we'd experience. Blatant evil, unscrupulous men (and women), danger, riots, lies, deception, and the like. And they're not even trying to hide it!
We don't have to conform to what's going on out in the world. We don't have to fear. We have a Higher Authority we answer to. We also have a Higher Authority who wants to take care of us.
For brevity's sake, I am going to reiterate things I've said before – your mouth, your Bible and your ears are vital tools. It's kind of like this picture, only the God version: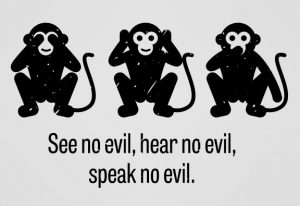 Watch what you put into your eyes. Make sure you have MORE faith-based teaching (DVD, CD, books, Bible) than you have world junk. World movies and books can affect your faith. Be in an overflow of faith-based God-stuff.
Watch what you put in your ears. No allowing gossip to flow into your ears. No listening to bad reports (you may hear them but immediately replace them with what God says about it). No words of doubt and unbelief. Those words will suck the faith right out of you. Stay away from negative friends and nay-sayers.
Watch what you speak. This is VERY important because what you speak all the time is exactly where you are living right now. If you don't like where you are in life, change what you've been saying. Do NOT say something if you don't want it. ONLY speak what God says about you, circumstances & situations.
FORGIVE because without that, Faith won't work and you're going to be stuck dealing with that person or issue forever – F-O-R-E-V-E-R – until you truly forgive. Everything actually hinges on that, too, because if you don't forgive, you block God's ability to help you.
How our days ahead go is up to us. God has given us the promises. It is our responsibility to learn what they are and believe them!
IT'S GOING TO BE OKAY!
♥